Whether you're a casual stargazer, spend the whole night attached to your telescope, or simply want to make your mark in the heavens, why not name your very own star.
The Name a Star set comes with coordinates and a star wall map so you can star spot your star and details of how to register the issued star on the Star Registry. The star will officially be titled with your chosen name and you can show it off with the certificate you are issued.
Who knows there could be an updated version of the classic nursery rhyme to "Twinkle twinkle little Dave" – it could happen!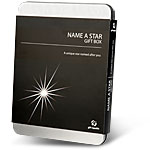 More details about "Naming a Star"