For those crazy footy fans out there, this Ultimate Football Fan gift set has it all!
The Ultimate Football Fan comes fabulously presented within a silver gift tin and the contents are as follows :
Welcome letter,
The little book of Football, written by Michael Heatley gives information all about the origins of the game, the first golden age, Post war boom, England's finest hour, Total football, Premier passions, football going global and the future of football,
The ultimate football quiz – great for sitting down and testing your knowledge with your friends. There are 75 of the toughest football questions from all around the world, including the Premiership, Champion's League and European Cup. Simply complete with the scorecards provided and then check your answers by opening the sealed envelope,
Football pen, with a football at one end and is ideal for using with your quiz,
Football fan questionairre just to see if you really are the football fan that you claim to be!
Complete your enclosed registration certificate so that you receive your A4 certificate in your football clubs colours and team name , this certificate confirms and certifies that you are the ultimate fan!
Also to complete on the registration card is your name, football club, club's manager, position i.e striker and the date so that a personalised newspaper story can be written about you and how your favourite team has signed you up for a whopping £40,000,000!
This set is a real treat for football fans which will keep them occupied for hours on end and give huge enjoyment!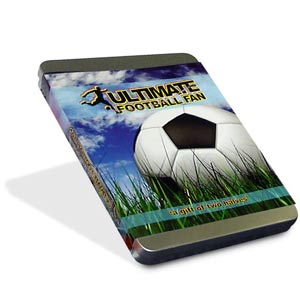 More details about "Ultimate Football Fan Gift Set"