This spectacular – and personalised – highly detailed map gives you the opportunity to reminisce with family and friends charting your global travel adventures. Comes complete with 100 map pins (20 each of five colours) allowing you to construct a personalised key to what each colour pin represents; where you have visited, dream destinations, places you've lived. You decide.
The laminated surface also allows you to write notes on the map, such as details & dates connected to your travels. For the perfect finish, the map is expertly framed in your choice of either dark or light wood oak and arrives ready to display.
Specify up to 70 characters (including spaces) for the personalisation to be printed in the title box on the map. Decorative, interactive and truly engaging, this unique personalised map will delight even the most discerning world traveller and makes an ideal gift for any special occasion.
Size: 103 x 65 cm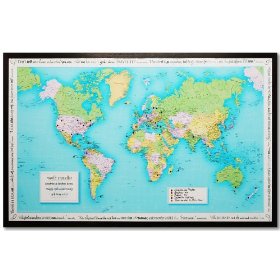 More details about "Personalised World Traveller Map"