For thousands of Manchester United fans the ultimate dream is to have their name and chosen shirt number on the back of a Red Devils kit. This great personalised gift can make those dreams come true. Sort of!! For most of us nothing will replace the dream of actually getting to put the kit on and running out on a Saturday afternoon, but this would look good on the bedroom wall of anybody who still hopes!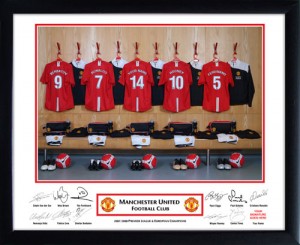 The high quality, framed photograph was taken in the actual Manchester United first team dressing room and makes an utterly unique gift for fans of Manchester United FC. Your selected surname and chosen shirt number will be merged onto the centre shirt alongside the players like Giggs, Ferdinand and Rooney.
The forename and surname is also printed alongside the player's signatures leaving a space for the recipient to add their own signature, which is a nice touch.
If you know somebody who has always dreamed of signing for Manchester United, imagine the suprise when they see an official Manchester United club magazine cover or featuring Sir Alex proudly holding aloft a club shirt with their name on…
…or how about putting their name in the squad list on the official Manchester United Match Day Programme cover and onto the shirt held by Sir Alex Ferguson.
Adding that personal touch to a perfect Manchester United FC gift really shows you care, for a fan of any age.
Whatever Manchester United gift idea you chose it's guaranteed that these personalised Manchester United gifts are something they will never forget!
More details about "Personalised Manchester United Football Gifts"