Now Includes the 2008/09 season, updated up to 30th May 2009.
Relive those glorious moments of your favourite team in newsprint captured in this beautiful hand made leatherette book.
From the early 20th century to the recent past, each book affords a unique perspective on your team or sport's colourful history. They are not written by someone looking back in time, but researched and compiled from actual reports written by journalists who witnessed the games and events as they unfolded and in a language of the time.
A wonderful insight into your team: their history, the high and lows, the inside stories, the gossip to give you a fantastic gift for football fans.
Each Personalised Football Book comes with option of the embossing the recipient's name in gold on the front cover.
Great for any football fan!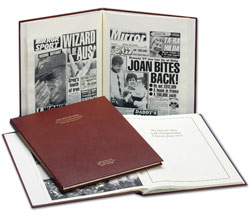 More details about "Personalised Football Book"
Available for the following teams: Aberdeen, Arsenal, Aston Villa, Barnsley, Birmingham city, Blackburn, Bolton, Bradford City, Bristol City, Burnley, Cardiff, Celtic, Charlton, Chelsea, Coventry, Crystal Palace, Derby County, Dundee Utd, Everton, Fulham, Hearts, Hibernian, Ipswich, Leeds, Leicester, Liverpool, Manchester City, Manchester Utd, Middlesbrough, Newcastle, Norwich, Nottingham Forest, Portsmouth, Preston North End, QPR, Rangers, Reading, Sheffield Utd, Sheffield Wednesday, Southampton, Stoke City, Swansea City, Sunderland, Tottenham Hotspur, Watford, West Bromwich Albion, West Ham, Wigan, Wimbledon and Wolves.