By purchasing the 'Adopt a Reindeer' pack you will also help the continuing survival of the Cairngorn herd of reindeer.
Contains:
 - A gift Announcement Certificate (Non Personalised),
 - Welcome Letter,
 - History of the Cairngorm Reindeer Herd,
 - Two Pages of Reindeer Facts,
 - Decorative Backing card with pictures of reindeers, contact details etc
 - A5 pre-paid registration card,
 - A small cuddly reindeer.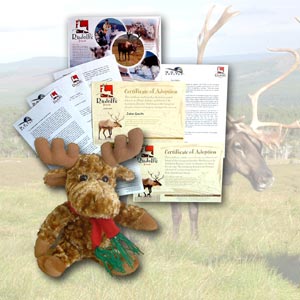 Once the recipient has registered they receive another deed this time fully personalised also contained with the deed is a registration card which in conjunction with a voucher (also included) allows one entry to the centre.
More details about "Adopting a Reindeer"